Back to School: Secure Learning for the COVID-19 Pandemic
August 11th, 2021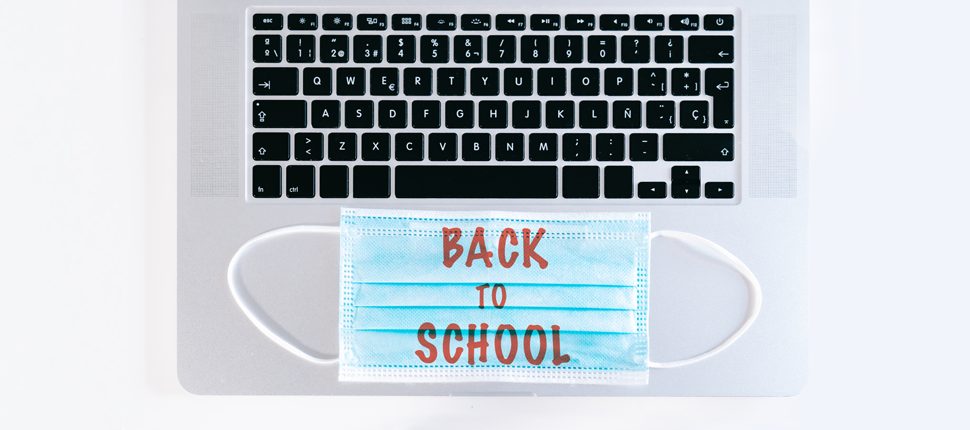 The kids are going back to school. This annual event is complicated by the COVID-19 pandemic, and evokes a strong mix of emotions. Both parents and the government want to see children in schools as soon as possible – but not at the cost of safety.
The impact of last year's turmoil
Parents and educators alike haven't forgotten the seemingly impossible transition to online learning. Few would call it smooth sailing, even when it was successful. Students were rapidly asked to learn from home, and in the blink of an eye, students had to adjust to this change. It wasn't easy for students, parents, or educators.
It had to be done, to ensure children would avoid exposure. But the long-term impact on the minds of the children and their learning curve was hard to predict. Re-opening schools was pushed out further and further, and the learning gap worsened. 
The second challenge associated with remote learning was the mad scramble to establish the IT infrastructure needed so teachers hold classes online. Even school IT security had to quickly evolve to meet the needs of a new learning environment. Unsurprisingly, cybercriminals wasted no time targeting schools as the move to remote learning resulted in numerous security vulnerabilities. A vulnerability is an open invitation for hackers. 
The third challenge was the emotional rollercoaster that parents and educators were going through. At one end, they were concerned about the safety of their children and students, as well as their own health. At the other, they were unsure about an impromptu online learning shift.
Everyone involved had to make peace with the fact that learning from home was a difficult call to make, but one that had to be done. And educators had to make major adjustments to teaching methods in order to ensure online learners did not suffer.
Still, there's no substitute for in-person classroom attendance and teaching.
Back to school – fears persist, but solutions exist
The time for a reset is here. We're heading back to school. But there are well-founded fears, educators and administrators are hunting for solutions. These solutions must allay the fears of parents who are justifiably concerned about the risks posed by in-classroom teaching.  
That isn't the only concern though. Stakeholders are also worried about the IT security infrastructure. Schools now need to realign their security thinking to classroom attendance and keeping children and IT infrastructure safe when they are learning from the classroom.
The health aspect
The CDC has come up with guidance for preventing COVID-19 in K-12 schools. Schools have to implement safety protocols confirming this guidance. At this time, these guidelines  include following an indoor mask mandate, social distancing in classrooms, screening tests, and coming up with a multi-layer protection strategy whose job is to keep children safe. 
In addition, schools are taking precautions to put access control protocols in place to protect the children under their care. Schools with a gated perimeter will be very strict about who they let in. 
Opening will be a learning process for every stakeholder. For schools, the focus will be on better monitoring, continuously improving their preparedness based on what has been learned along the way, and preparing for all kinds of emergencies. 
Parents must be confident about the school's preparedness, and for this to happen they must be aware of all that the school is doing to keep their children safe. Asking the right questions helps, and that too in terms of specifics.
What's more, parents should make sure their children understand what they must do to stay safe. Highlight the importance of masking, not touching the face or eyes and the criticality of keeping social distancing. 
The security aspect
With students returning to their classrooms, the pressure is on school IT personnel to strengthen the organization's cybersecurity posture. There is a very good chance students will bring the personal devices they used for attending online classes. Considering these might have not been as secure as the school's computers, it's possible these might be infected with malware. Unhindered and unmonitored use of such devices can offload this malware onto the school's network. 
What's more, remote learning necessitated the use of cloud applications, and this further increased the attack surface. Cybercriminals can use such applications and unprotected computers to gain unauthorized access to the school's network.
Your school's IT administrators are working hard to keep students and staff safe. But parents should take certain steps to ensure your children and their personal computers, stay safe and secure:
• Security Awareness
Make sure your child is aware of some of the cyberthreats out there and flag any concern they might have to their teachers or the admin staff. If they spot problems in the working of a particular application, a red flag must go up. 
• Cyber hygiene
Back to school doesn't mean forgetting the browsing best practices that your children must have followed when they were learning from home. The same guidelines must be followed in schools, and they must avoid sites that are not linked to their learning activities in any way or form. 
• Antivirus solution
You and your child might exercise the highest level of caution while using your PCs and Macs, but there is always a chance of cybercriminals gaining unauthorized access. You will therefore need to install a cybersecurity solution for home users that can protect your computer from both known and unknown threats. 
With Sophos Home, you get powerful, business-grade security that delivers next-generation protection to home computers. It offers features such as predictive artificial intelligence (AI) with deep learning, powerful exploit prevention, and advanced ransomware protection. Its core focus is on delivering exceptional defense and making it easy for users to view and manage computer security. 
The emotional aspect
Let's be honest: back to school is a tough decision to make for parents. It's easy to fall into a cycle of second-guessing your decision, and wondering whether it is the right one. Review all the pros and more importantly the cons and check whether the benefits outweigh the risks.
The move to in-person classrooms from remote learning will be difficult, but certain steps can be taken to ensure that this will be a seamless move,  a little less chaotic than the move to an online learning environment.
What are you waiting for? Let's get started!