Best Practices to Keep Senior Citizens Safe Online
October 28th, 2021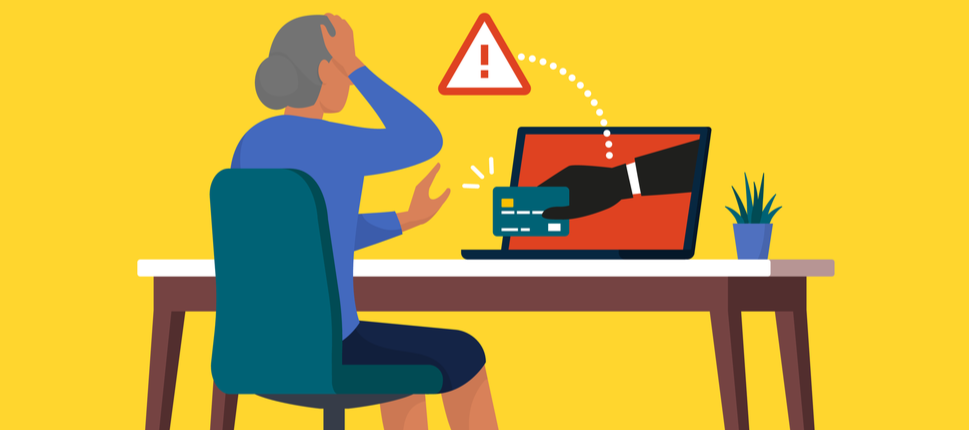 Cybercrimes spare no one. Criminals target all age groups, from the youngest to the oldest. The internet reaches everyone and everywhere, and cybercriminals have a vast, ever-growing playing field.
Seniors frequently become innocent, unsuspecting, and unaware users. They are often low hanging for hackers. The pandemic has ushered a new normal in our lives, and previously inactive internet users have become hyperactive on the web. This includes seniors as well, and the more active you are on the internet, the more likely you are to make a wrong decision enabling cybercriminals accessing your private data.  
Seniors previously less active online have a good chance of being not as attentive and suspicious while browsing the web as others. This lack of internet savvy can enable them to fall prey to the hackers lurking around on the net.
Here are some best practices to stay safe, maintain privacy, and not become a victim of a cybercrime. Observing cybersecurity hygiene and building more security awareness while spending time on the internet should ensure the senior citizenry doesn't fall prey to hackers.  
Create a strong password: Many seniors may experience a tough time remembering passwords, therefore there is a tendency to create an easy one to remember, and re-use it everywhere. But this is a huge no-go. Passwords must be strong and it will be a good idea to work with a secure password manager to ensure they do not forget a complex password.
Two-factor authentication: Whenever possible, you should opt for a two-factor authentication. This is a two-step method that websites/apps use to confirm your identity/credentials. Less internet-savvy seniors may find this this confusing and something they'd rather not deal with for fear of getting it wrong. The idea here is to have confidence in your ability to keep your personal information secure.
Being alert and vigilant while using emails: Seniors and non-seniors alike might be surprised to learn that you might have been a victim of a phishing attack without realizing it. This might have happened when you received an email that asked you take immediate action asking you to share sensitive credentials. Think back. Did you receive an email that you thought was from a trusted source – your bank, a government organization, the last organization you worked with or a friend that you lost touch with? Did it ask you to click on a link and share your private information – user name, password, or other private information? Did you have some vague doubts about its authenticity, but you pushed these at the back of your mind, and proceeded to share the info?
If yes, there is a very good chance you have been phished.
If not, you have been very lucky, but don't depend on blind luck. Making the right decisions and employing a zero-trust approach towards opening emails and clicking on links will help. Be very suspicious of emails that ask you to share your credentials or personal details. This will go a long way in preventing you from becoming a victim of phishing scams.
Don't forget to check emails carefully to see if there are any tell-tale signs of phishing. If you see a dramatic tag line, such as asking you to transfer money, or telling you that  you have won a lottery, stop immedaitely. Words like 'Final Notice", "two hours remaining to book," and such should ring an alarm. Also, check for a sender's address that is inconsistent with what you'd expect to see, such as including multiple random letters or wrong domain names.
Online payments while ordering food or making payments: While using a website for ordering food or any other item or making payment, always check if you have accessed the right page. Criminals often spoof web pages of trustworthy sites. You therefore need to check for signs that say it is a phony website. Check if the company logo is authentic and whether it has the secure logo (look for a lock symbol in the URL). Avoid any website with a slightly misspelled company name or mismatched logo. Such pages are nearly impossible to distinguish from authentic pages due to minor changes. But it is important exercise caution.
Setting up new passwords – beware of scams: Websites may also ask the user to set the password or entice them to do so with an unbelievable offer. Remember this rule – If it appears too good to be true, it probably is. On clicking the given link, the user will be taken to a page to enter their username and password. Once this data is submitted, hackers can easily hack your data. This data could be credit or debit card credentials, wire transfers data, to create monetary frauds. So don't fall into this trap.
Use of QR codes: As the world is moving towards contact free services, use of QR code has increased and so have QR code scams. If you happen to scan a bogus QR code, hackers can steal sensitive data from your phone. It is very difficult to determine if the QR code is fake. Be extra vigilant. Again, the key here is to make sure you are scanning a QR code from a trustworthy source.
Many a times hackers replace a genuine QR code with a fake one at airports, bus depots, or restaurants, using fake parking tickets, or in debt consolidation emails which leads the senior citizens to believe and scan them. Be alert before scanning. Never open QR codes sent through links or emails by strangers.
If someone you know sends you a QR code, confirm by calling to check if they have sent the code.
Hackers (at least unsophisticated ones) might stick their own QR codes over the original ones. If you see a QR code altered or placed on top of or over over another, just do not scan it. Install mobile security to avoid these errors.
Using social networking sites: Messaging apps and social networking sites also have the potential danger of malicious links. Many a times, the links found in comments on Facebook posts could be posted by hackers.

While using Facebook or any other social platform, be aware of sharing data publicly. Adjust your privacy settings to limit who can view your information. More and more seniors (especially after the pandemic) are using social media platforms to stay in touch with friends and family. While this isn't a bad idea at all, they might not be aware of social media best practices to maintain privacy. Ideally, as a senior, it will be a good idea to get a thorough understanding of the do's and don'ts of social media to make sure you are using such platforms safely. Don't be afraid to ask friends and family more familiar with being online for help.

Using public Wi-Fi network: Seniors often get requests from their adult children: let me know when you get to the airport, or when you check in at the hotel, for example.
Avoid using public Wi-Fi if you can. Hackers target these networks, hack into them, and proceed to infiltrate your laptop or mobile phones. There are ways to connect to a public Wi-Fi securely, ideally through a VPN, but and if you do travel frequently and have a habit of using public Wi-Fi, make sure you connect securely to free internet.  
Conclusion
Implement these and other best practices to ensure your online experience is safe and secure. You don't get a free pass from cybercriminals just because you are a senior. Unfortunately, hackers often target seniors specifically.
Make sure you use an advanced antivirus solution that keeps your PCs and Macs safe from hackers and all manner of cyberthreats. Sophos Home will scan and clean your computer, removing even well-hidden malware, and its advanced threat protection keeps your private information secure by blocking viruses, ransomware, and other malware threats. Also, you don't have to worry about falling prey to phishing or hacking attempts while shopping online, as this security solution protects you while you are buying products online. This and many other security features ensure you can enjoy a safe browsing experience and not have to worry about your private information falling into the wrong hands.
What are you waiting for? Let's get started!