How Has COVID-19 Changed Children's Online Security?
March 23rd, 2021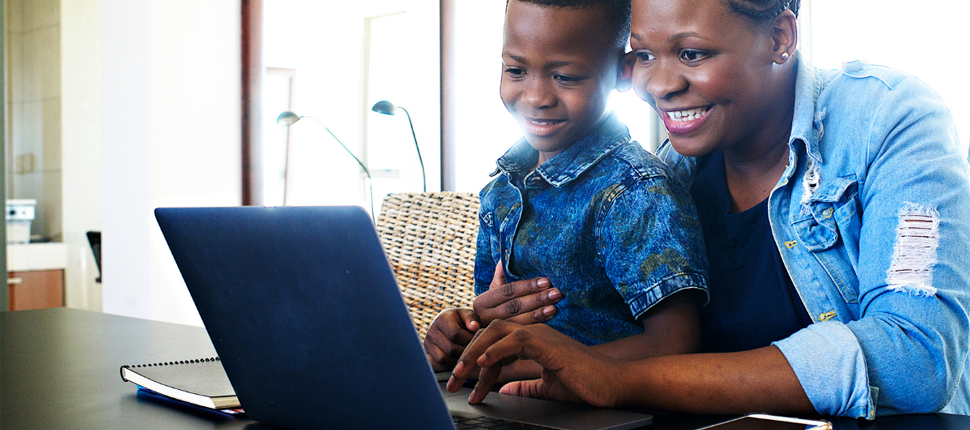 Survey finds cyber risks of online learning concern parents – but protective measures are falling short
It has been a long, challenging year, as students, teachers, and parents adjusted from in-person to online learning. Navigating tools like Zoom, finding new ways to communicate when face to face learning was impossible or unsafe – and now we're in the home stretch and a return to normalcy may be in the cards.
One benefit to online learning: it's given parents a chance to gain better understanding about their children's online presence and security. Sophos Home commissioned Vanson Bourne in February 2021 to survey more than 1,000 U.S.-based respondents with school-aged children under 18 years old, of which 94% of which have had children attend school in some manner, if not full-time, via remote learning since the start of the COVID-19 pandemic. The survey asked these parents about their greatest online security concerns during COVID-19 and what steps they've taken to keep their families safe.   
Parents may have been concerned about their kids' online activity before the pandemic, but the survey discovered that those fears have exploded over the past year in lockdown. The survey not only uncovers what worries parents most – it also discovers gaps that can be addressed to better secure family desktops, laptops, tablets, phones, and more.
Fears about vulnerability
The survey uncovered that more than two-thirds (67%) of parents surveyed worry about cyberattacks and think they could experience on in the next twelve months. At the same time, just over half (51%) believe they are more at risk now than they were a year ago.
Image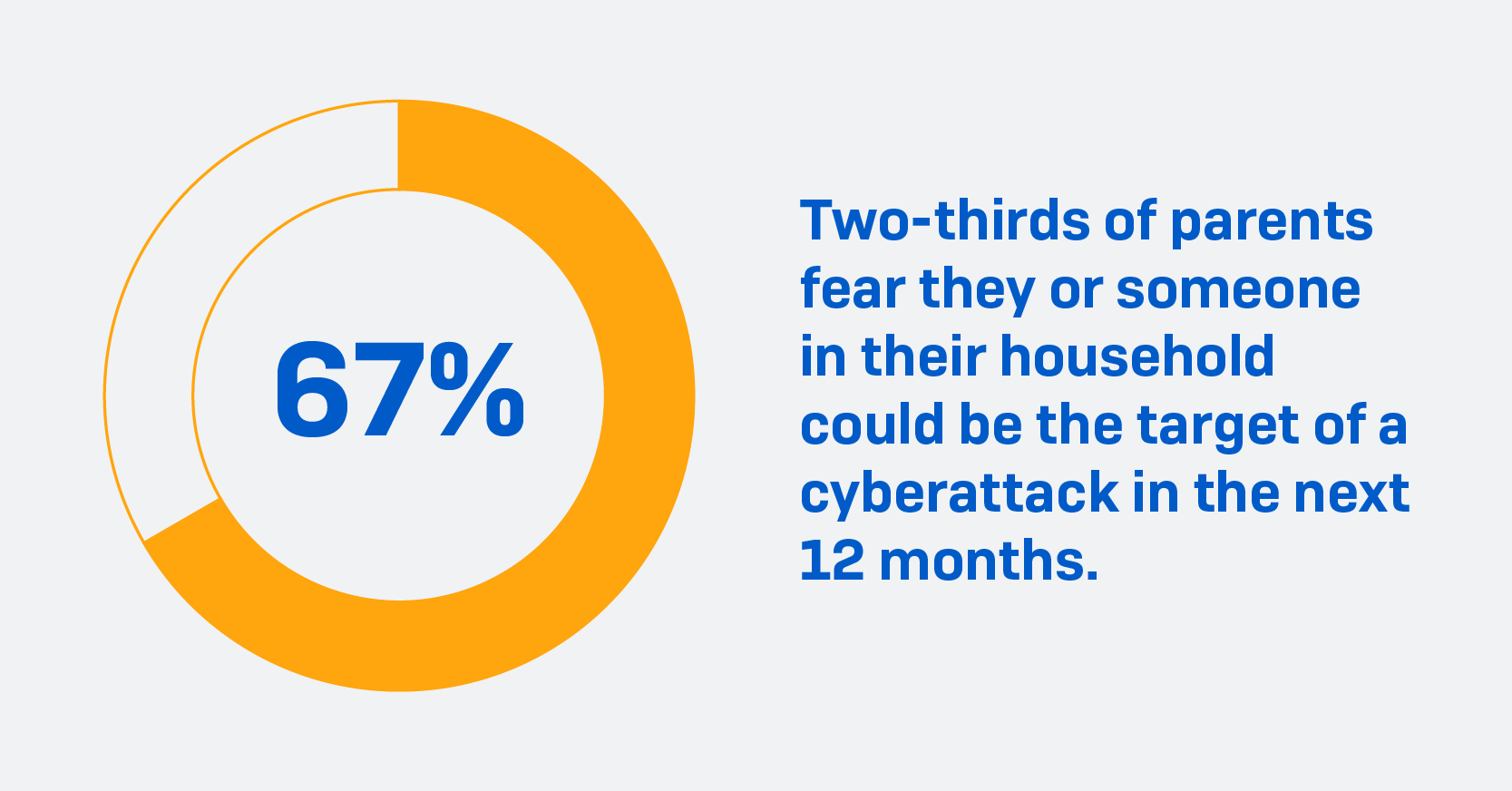 How much do parents know about the kinds of attacks they might encounter? While nearly all (93%) were worried about online threats, the top of the list of their current fears were viruses and malware (54%). Identify theft was next in the line of concerns (43%) and social media hacking and financial fraud followed close behind (42%).
Image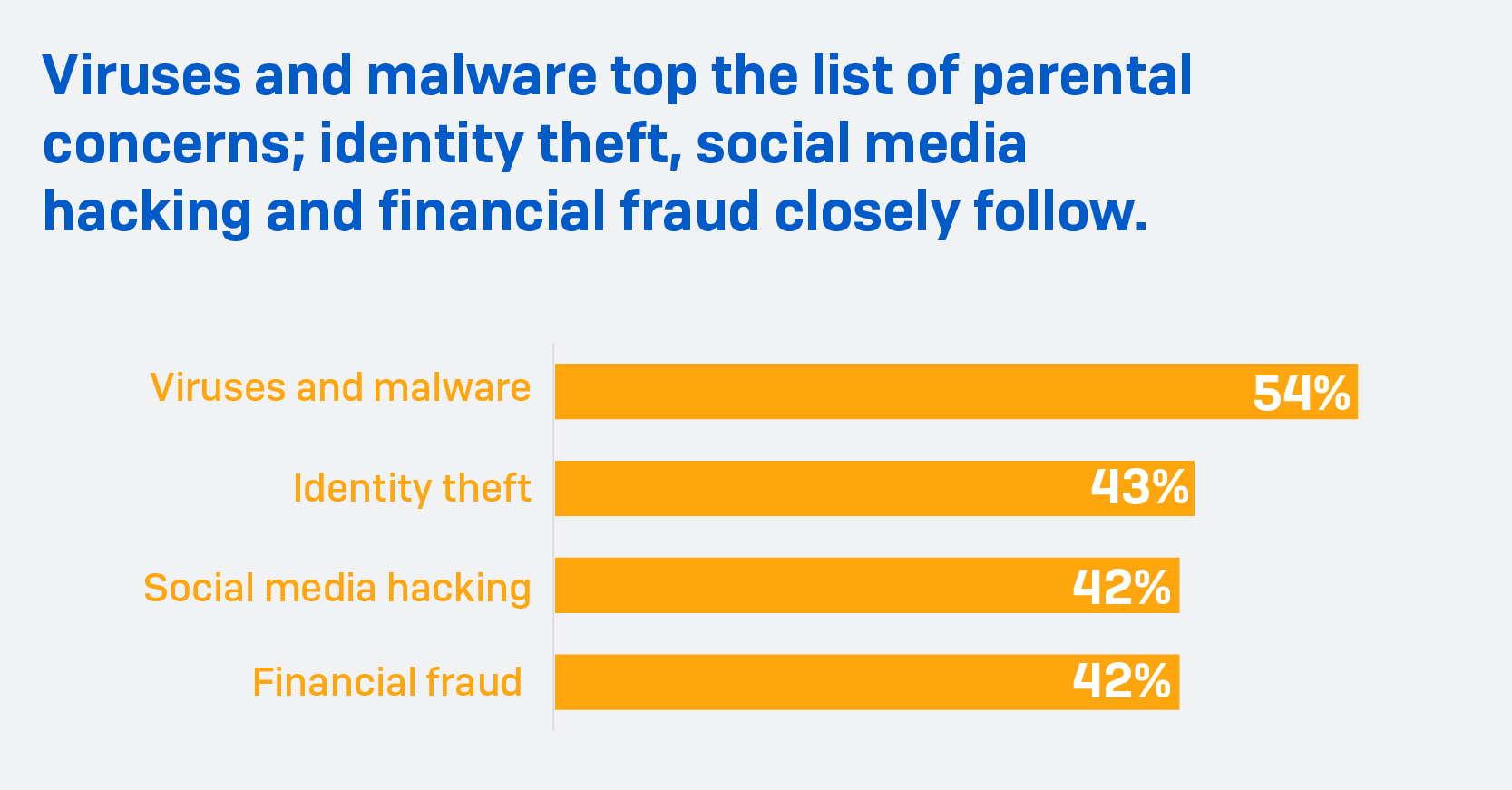 Despite these concerns, the survey uncovered some uncomfortable truths about very fixable security gaps. A distressing 59% of parents don't set up separate user accounts for the devices their children use. Nearly half (49%) don't' have user passwords for these devices – so they are wide open for anyone to use.
Despite how available parental controls are, only half of parents have made use of them. Filters for safe browsing or web content are also going unused, with only 42% of parents setting these options up.
Image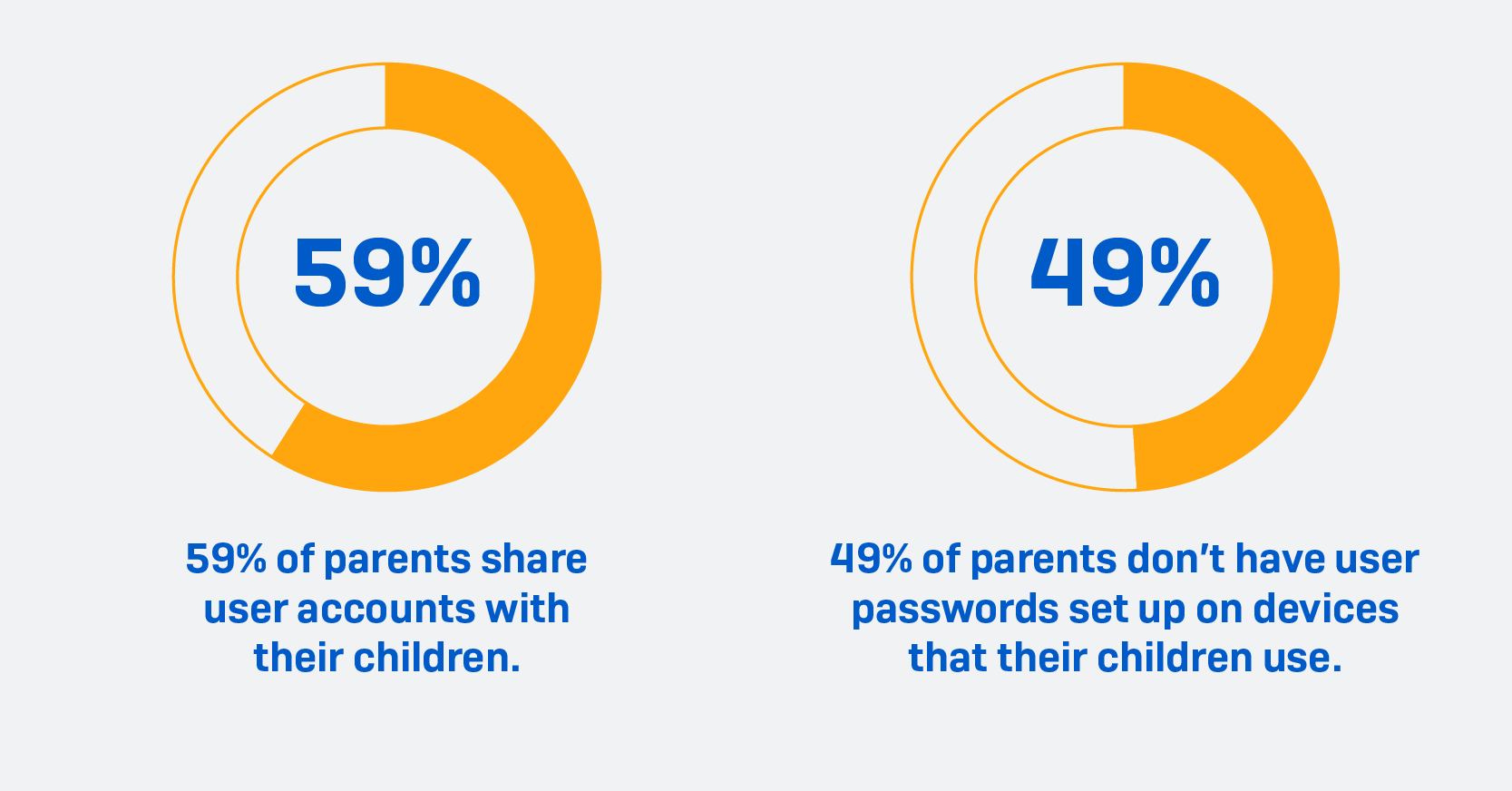 Confusion between school and home
An interesting discovery that might explain why some of these issues persist: it's unclear whose responsibility it is to actually be the one to secure the devices students are using at home. If the student is using a school-issued device, is it the school's responsibility to secure it? The numbers relay this confusion. 38% of parents surveyed believe securing the device is entirely the school's responsibility. Alternately, 24% see this as their responsibility as parents to do so. 35% view it as a shared responsibility between the school and the parents.
While there remains confusion about where responsibility falls for school-owned devices, at least we can say that is not the case for personal devices students may use for school work. Four in five (81%) believe they are responsible or securing the devices their children us. A small – but still concerning – percentage (15%) don't believe they are responsible for securing their children's devices.
Image
How to keep students safer
On the upside, more than half (55%) of parents surveyed said cybersecurity is a priority – though the survey demonstrates that a refresher on the basics of security may be in order, especially as we continue to see spikes in COVID-19 even in places where the vaccine is rolling out. Here are five steps parents can take to better secure devices for their students:
Install antivirus software, and turn on auto updates
Create user account passwords for each device, and set up separate user accounts on shared devices
Implement parental controls (e.g., web browsing filters) on devices used by kids
Block social media apps on children's devices or accounts
Update your child's device operating system as soon as new security patches are available
Sophos Home can help
Sophos Home can make protecting students on line simple and effective. It provides security and privacy for the entire family, making it easy for parents to secure and manage all of their family's devices. A new mobile app helps parents remotely manage their iOS and Android devices.

Learn how other parents are using Sophos Home to protect their families, or download a free trial for yourself.
What are you waiting for? Let's get started!